Hardware, software and services - your All-in-One IT solution
Hub integrates all your IT into one system that works for your business. It creates a robust and reliable infrastructure you can forget about, so you can focus on more value adding tasks. It's a virtual one-stop IT department that supports your business, whilst helping you manage your day-to-day costs.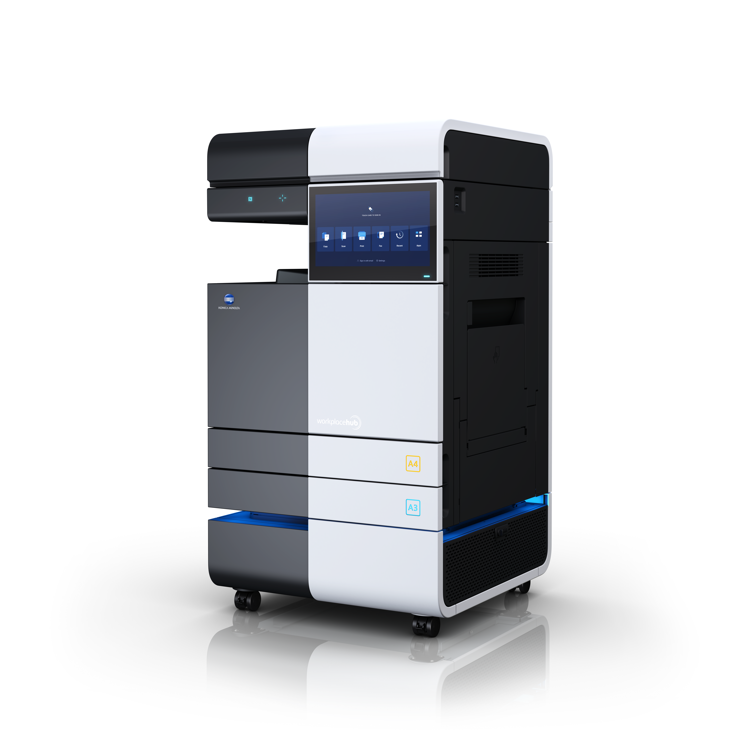 Workplace Hub
World-leading security
Accurate business planning
One-stop support
Better collaboration
A scalable and effective solution
Hub Features
ADMIN DASHBOARD
True, functional simplicity. The Admin Dashboard puts everything in one place, with you in control.
ASSET MANAGEMENT
A simple way to review and manage your hardware and software licences.
STORAGE & BACK-UP OVERVIEW
Review your storage, at the click of a button.
USER MANAGEMENT
A highly efficient way to manage users.
KONICA MINOLTA MARKETPLACE
Get ahead with access to a whole world of online software, applications and IT services through our proprietary store – Konica Minolta MarketPlace.
APPLICATION MANAGEMENT
Easily manage and assign business applications.
WI-FI MANAGEMENT
Control your company's Wi-Fi wherever you are.
IT INFRASTRUCTURE
Everything brought together seamlessly, using technology that evolves with your
business.
SECURITY
Unrivalled system security with Sophos XG Firewall.
STORAGE
A data storage solution that grows with your business and never interrupts your service.
CLOUD
Your local server is backed up by Konica Minolta data centres that comply with country regulations providing additional security for your data.
SERVER
Customised Gen 10 Hewlett Packard Enterprise server.
WI-FI ACCESS POINT
Trouble-free, secure Wi-Fi that's easy to configure and highly flexible. We make sure your Wi-Fi access points meet your demands and both your employees and guests enjoy connectivity throughout your premises.
MULTIFUNCTION PRINTER
An all-in-one smart Konica Minolta printer, giving you fast, high-quality and versatile printing, as well as a copying, scanning and faxing capability.
MANAGED IT SERVICES
Free up your time and energy, by letting us take care of your IT management.
SYSTEM SECURITY & DATA PROTECTION
We're fully equipped to manage the complex task of protecting your data and systems from malicious attacks. We use Sophos' unified threat management, which offers sophisticated security to keep you safe at all times.
STORAGE & BACK-UP MANAGEMENT
Robust data management and storage so you never lose critical information.
ONSITE INSTALLATION & SUPPORT
We'll look after the initial setup, configuration and training so Hub works perfectly from the outset.
ONGOING PROACTIVE MANAGEMENT
Once Hub is installed, we remotely monitor and manage the entire system for you, finding and fixing problems before they impact your business.
PROFESSIONAL IT SERVICES
We can also provide further support for your specific IT projects, including consulting and installation of additional equipment, software and services.
HELPDESK
A range of help is available, from administration of your Hub through to full support, for your entire IT system.
USER DASHBOARD
The portal to better productivity.
FILE SHARING
Share ideas immediately and securely, with colleagues and collaborators.
COLLABORATION SUITE
Enhance the way you work with tools that improve personal productivity, team collaboration and company communication.
SMART FEATURES
A continually evolving and growing suite of intelligent applications that improve workplace productivity.
ADDITIONAL APPS
Access to additional applications purchased through Konica Minolta MarketPlace.
MULTIFUNCTION PRINTING
Multifunction printing capabilities working harder for you.